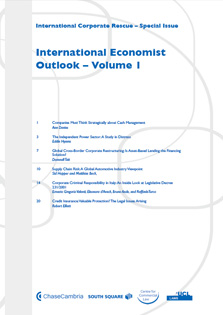 In today's world the economic outlook is uncertain and fascinating in equal measure.

We have seen the collapse and nationalisation of some of the world's former leading investment banks. We have witnessed a sovereign debt crisis leading to the introduction of eurozone rescue measures and the installation of technocrat governments against the backdrop of civil strife and austerity. We are experiencing a seismic shift in world influence and power following capital flows to emerging economies. There are worrying indicators in relation to growth in the more developed nations prompting crisis meetings of the world's leaders seeking to address this. In short, we live in a fast changing world.

International Economist Outlook is designed to provide a useful combination of thought-leadership and analysis with a practical guide to future international trends and developments. It is aimed and will be of equal interest to policymakers and regulators as well as professionals working in finance, law, accountancy and academia.

International Economist Outlook is produced by an expert editorial team with in depth knowledge and long-standing experience of economics, banking and finance and includes Mahesh Uttamchandani of The World Bank in Washington DC, Kathleen Stephansen of AIG in New York, Simon Davies from Cairn Capital in London and Professor Philip Rawlings from Queen Mary College, London University.
International Economist Outlook – Volume 1
International Economist Outlook – Volume 2
International Economist Outlook – Volume 3
International Economist Outlook – Volume 4
International Economist Outlook – Volume 5
International Economist Outlook – Volume 6
International Economist Outlook – Volume 7
International Economist Outlook – Volume 8